So I break my promise to myself every tour. Every tour, I swear that I will blog once a week and every tour I am at least 3 weeks in and I think feck it... next time I'll be that super organised touring blogging musician! It's just I get distracted not only by driving the fecking mighty distances in this country, I get distracted with logisitcs of tours, I get distracted by going to cool places with the kids, but I REALLY get distracted by all the amazing people I get to meet. Their stories enthrall my little heart and I spend more time being in the story than being able to type about it. 
I could type here now for hours and share with you pictures of the beautiful beaches, the stunning cityscapes or the mountains we got to climb. We went from cold Victoria to freezing Canberra up through the snow in the mountains of Katoomba into the icey rivers at Bellingen and up to the sunny beaches of Noosa with their warm salty seas.  We saw and felt so much of Australia in three months that this blog would explode with pictures. But that's not for this post. I could tell you about the 50 litres of transmission oil we spilled across the highways between Canberra and Brisbane. Or the alternators that kept slipping on us and the twenty or so bolts that snapped. Or the tire that burst and caused me to miss my first gig EVER (sorry Brisbane).  I could tell you about the many many amazing human beings that we met and the angels that helped us to keep Busty Bertha on the road this time. So lucky we are still rolling! But that's not for this post either. 
I could go through each day blow by blow, but it would look like this on repeat...
Drive bus to a divine venue (rockstar parking always appreciated):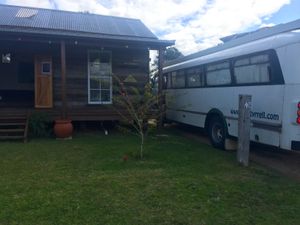 Load in the gear and small people (extra care of the monkey and banjo!):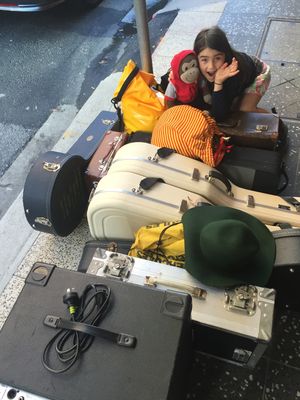 Then play a kick ass show (the divine Sarah Carroll and talented Nick Martin kicking ass with me):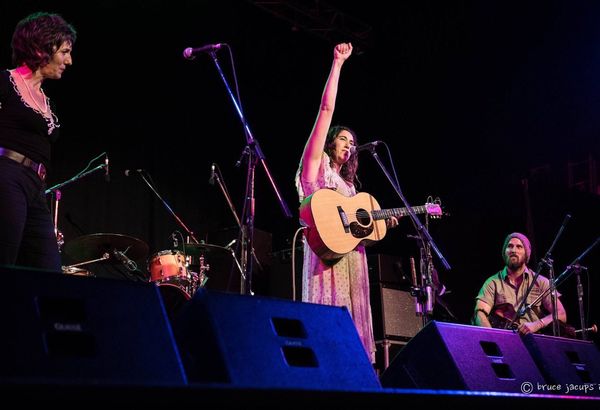 AND THEN REPEAT!!!
Groundhogs day with a different town and different stage!
The only thing that keeps it from being Groundhog's day is what this post is all about. It's for the beautiful people we have met on this trip and that is what makes touring and the 57 litres of transmission fluid completely worth it! I wish I had a picture of each and every one of the human beings that have touched me this trip but that would explode the blog. From the beautiful festival workers, to the venue owners, to the amazing musicians we have had a chance to get to know and play music with (let alone the amazing crew I get to call my band!), to the unbelievable audiences OH MY WORD, I am so full of all that love and honoured to be able to do what I do. I am beyond lucky.
But then the tour ends and the people stop. Where are my peeps? When you return from tour there is always the re-entry (as Sarah Carroll so wisely told me it's called) that comes after tour... that moment where you are trying to work out what just happened the last few months and where you are going tomorrow and what does the next few months look like. There is no itinerary for "normal life". Siri isn't telling me when to turn left and right today. (I kinda miss her voice actually) There is no tour schedule to say where I am supposed to be and there is no guaranteed money from gigs coming in, and there are no people (apart from the check out people at Woolworths) that want to talk to me.  This is precisely when those of us coming back off tour do that little freak out dance... you know that one... sing it... Freak out...! We add our own lyriccs to the original song too like "why am I even doing this" "why am I a creative" "why am I trying to make a living out of this". We make those lyrics rhyme real good with other stuff too! In those moments, I've learned that as a sensitive creative type I MUST ALWAYS consult with my crew because that is when the sensitive creative type are at risk of ringing up to do a random accountancy course or something. So I knew better and I didn't type into google that I was looking for a job as an  "Irish bus driver", I instead typed in a little piece of heaven from my divine sister from another mister
Jackie Marshall
in which she interviewed the divine
Liz Stringer
. And as if those two ladies were psychic... There in print in the
interview
was that bit of my soul I needed to listen to.
"And keep making it (art), if you're one of those people. Sometimes it can feel like shouting into the darkness. But if you know that even one pair of ears is receiving and processing, in some way, what you're doing, the darkness can be very quickly lit up." - Liz Stringer
So this tour post is a gratitude post for all those ears that have kept on receiving and keep me going. And without being able to name all the divine people and conversations I have had, I will sum it up in one woman: BETTY!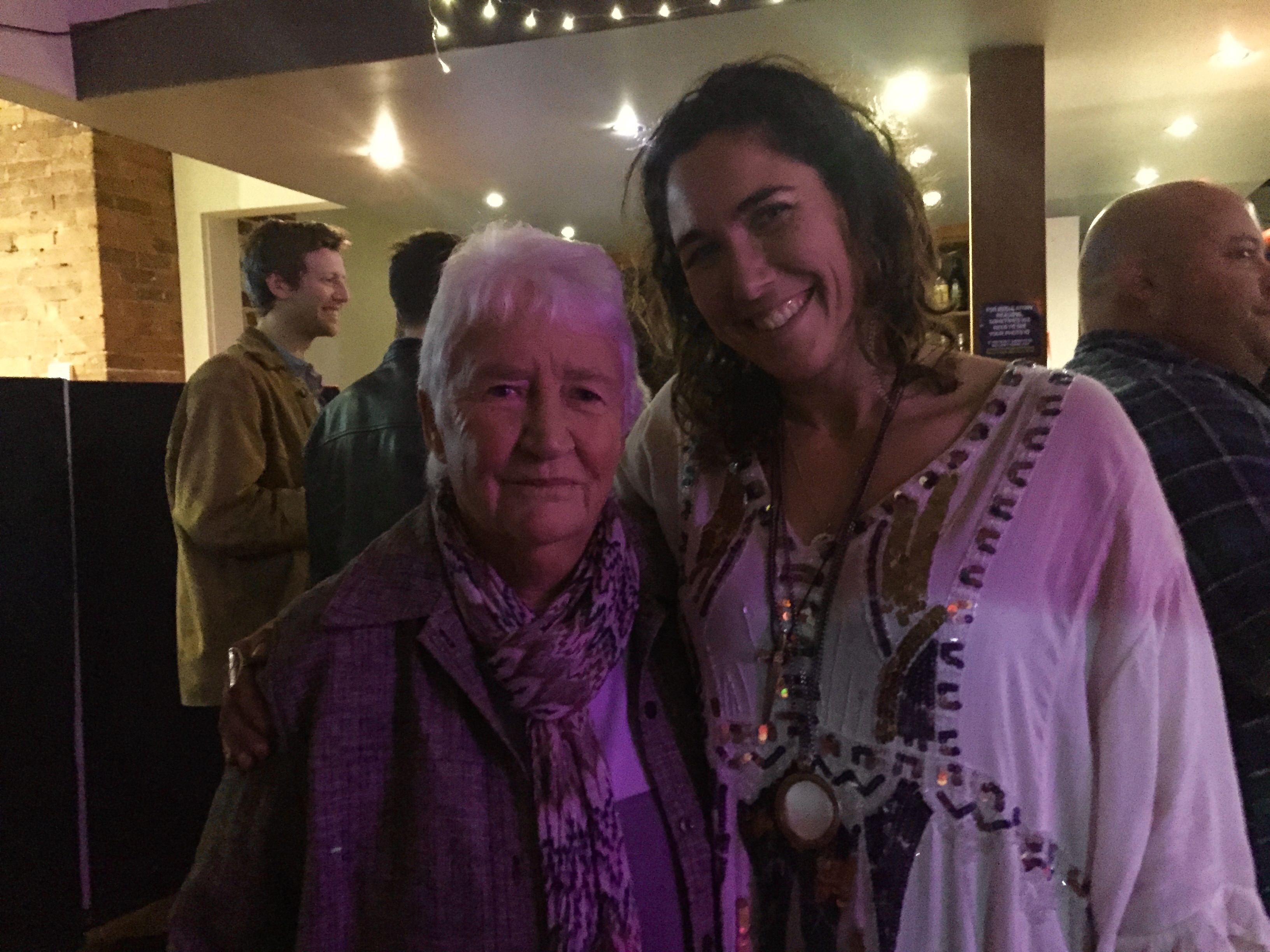 I met Betty last year on our album tour for "Queen of Swords" when we arrived into a 40 degree Bellingen to play No. 5 Church Street. We set up and the lovely sound engineer mentioned her friend Betty who was Irish and played the bodhrán and was in her 80s.  I said to tell her she'd be welcome to come along and play bodhrán with us. Sure enough a few hours later as I'm about to start the gig and Betty arrives up to tell me she's here to play! And did she play, she played a few lovely tunes with us and lit me up with her exuberance for life and music. She left before I could say goodbye at the end of the night so I asked the venue to pass on my CD to Betty the next day. And we rolled out of town.
Fast forward 6 months later and I am back in beautiful Bellingen playing at Bello Winter Music Festival and we are at the opening night. The act before us is a Bellingen drumming circle and who is sitting in the middle but my dear Betty.  As she comes off stage she gives me a hoot and a hollar and a hug and says I have something for you. We play our set and there Betty is back stage and puts this in my hands: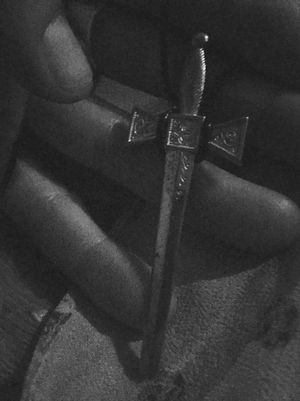 A sword. A sword she found for me and had made into a necklace and has been carrying around with her until she met me again. She starts to tell me about her life in Ireland when she was younger and about how growing up in a Protestant family she wasn't allowed to listen to or play traditional Irish music and it took her moving out here and knowing the music was in her veins and she had to find out more. So she took up the bodhrán in her 70s and is a drumming enthusiast. She said my music had touched her and she played the CD "Queen of Swords" every day and she could tell I had pain but that I had found light in the pain and she loves that and she needed that too. Betty then came to every one of our gigs at Bello Winter Music. She played bodhrán from her seat and joined us on stage every opportunity we could get her up. She hooted and hollared and sang the words out loud as she could. She MADE OUR FESTIVAL!!! At our last show, we were back stage doing the pack up and one of the stage managers came over to me and asked me would I go out to the front of the venue as Betty was upset and crying. I came out to Betty who was in tears that it was our last show and that she had had the time of her life this weekend and she didn't want the fun to end. Oh Bless if I could have bundled Betty on that bus and taken her with us!! We brought her back to our accommodation and sat around the fire until the wee hours. And in that time she let us in on a secret that she likes to write songs too and Betty sang for the whole house! The next morning as the Bus was rolling out Betty arrived with Taytos (Irish crisps) and a picture of herself for the bus so we wouldn't forget her. 
And I haven't Betty! I haven't forgot you and we can't wait to come through and see you again.
But now it is my turn to thank you. Thank you Betty and to all the Bettys out there. Thank you for being that one set of ears for me, for receiving me, that one hug, that one sword that has given me the strength to keep doing what I do. Thank you for reminding me that music matters.
You are my Queen of Swords.
xo Áine
P.S. Watch out Betty we are coming through to
Mullum Music Festival
and might have to take a detour to come and pick you up!
#EveryoneNeedsABetty
P.P.S Here's a link to the latest and very timelt "Lessons From The Road" Part VII "We All Wander" about the amazing people we met on our desert recording trip. It's all about the Betty's on the way!